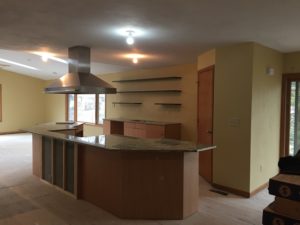 When you want to transform the ease of your everyday life, the place to start is with a custom kitchen remodel. At S&R Custom Homes and Remodeling, Inc, we'll make sure your kitchen remodel is the talk of the town. With over 20 years of experience, we can guide you through every phase of the process and make sure you get the kitchen you've always longed for – without having to move! We've cultivated an outstanding reputation for excellent services throughout the custom residential building community by working with customers, architects, material vendors, realtors, and subcontractors.
The Perks of a Kitchen Remodel
Nothing will help sell a Rockford home like an outstanding kitchen. Whether you're upgrading for yourself or considering putting your home on the market, there's a reason why kitchens are so essential. They are the heart of the home. Make it a place for you to enjoy your family with updates that not only beautify your space but make it more practical. 
A kitchen remodel is transformational. The possibilities are endless and can produce eye-popping changes. For example, you can take out a window and replace it with a cabinet for more storage space or, on the other hand, add a window to bring in more natural light. Or you can design an expansive open kitchen with an island to change a tiny, uninviting kitchen into a larger, more inviting space. 
Contact S&R Custom Homes and Remodeling for a Kitchen Remodel Today
S&R Custom Homes and Remodeling, Inc. is here to help you create your spaces uniquely. We'll remodel your Kitchen in Rockford to suit your budget and needs. Please view examples of our kitchen remodels below. 
To get top-notch help with creating a remodel design or constructing an existing design, call us at (815) 962-2896 or click here to contact us.