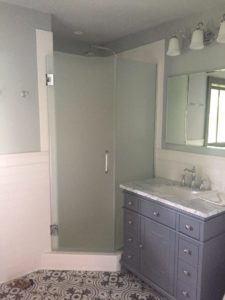 Few changes can boost the comfort of your home like a bathroom model. Rockford's S&R Custom Homes and Remodeling, Inc. is here to make that change come to life. We've cultivated an outstanding reputation for excellent services throughout the custom residential building community by working with customers, architects, material vendors, realtors, and subcontractors. We can offer you the bathroom remodel you've been waiting for – without having to move! 
Our excellent customer service, remarkable project management, and imaginative use of the latest building technologies make us successful.
What Is a Bathroom Remodel?
A bathroom remodel is more than just changing out the fixtures and installing more linen space, though that's part of it! We can work with you on a completely new layout design, add features like skylights, heated floors, or walk-in showers, in addition to adding new windows or whirlpools. A bathroom remodel can take your life from shower to spa in no time.  
Why Remodel the Bathroom?
A bathroom remodel adds to your home's resale value. But beyond financial considerations, we use bathrooms often, and they're also an essential consideration to buyers looking to purchase your home. When you work with S&R Custom Homes and Remodeling, Inc., you'll get a customized bathroom remodel based on your specific circumstances. 
Here are a few reasons for a bathroom remodel:
S&R Custom Homes and Remodeling, Inc. is here to help you create your spaces uniquely. We'll remodel your bathroom in Rockford to suit your budget and needs. 
For personal assistance with creating a design or constructing an existing design, call us at (815) 962-2896 or click here to email us.